I hope everyone had a wonderfully happy holiday. I should have posted holiday wishes a lot sooner but I've been incredibly busy. We spent a week in Ontario with Charlie's family, and it went even better than I could have imagined. They were so friendly and welcoming, and they adored Tori. We had a lot of fun talking about the upcoming wedding (this august) and it seems most everyone will be making the trip here to attend and staying in town for about a week. We had Christmas Eve dinner and gift exchange there and flew home Christmas day to have dinner and presents with my family.

It's been wonderful being with Charlie. He's been getting a lot of stuff done around the house for me, and we've been enjoying some quiet evenings at home watching movies, talking, and just being together. Tonight we're having friends over to ring in the new year. I've been cooking all day: homemade chip dip, chili, chicken wings (hot and bbq), rice, and cupcakes. Nothing like family, good food and good friends to start the new year off right :o)

In other news: The BBC has broken my heart. The series 2 finale of Robin Hood took it and smashed it into a million little pieces. I can't even think about it without getting sad/angry.

HAPPY NEW YEAR EVERYONE!!!
have to go to work. I feel terrible for poor Charlie because I've been taking everything out on him, crying to him, or snapping at him and blaming him for the silliest little things.

Now, on top of the mood I've been in, I'm sick. My stomach is acting all funky and I've had a migraine since yesterday. I don't have any refills left on my medication so I'm considering leaving work early to go see the doctor. However, there's always that guilt that comes along with leaving work early. What's a girl to do...go to work and suffer miserably through her entire shift so that she can have the pride and satisfaction of saying she got through it? Or leave as early as she can to go see the doctor and take her medicine so she can crawl into bed early and fall asleep while watching Margaret and Mr. Thornton?
I've been in such a funk of depression over this last week and I can't seem to snap out of it. I feel like I have no energy, I don't want to go to work or to associate with anyone. All I want to do is just mope around in my pj's and watch period films. I haven't been able to give in to that desire yet, however, because I


Although I'm Canadian I have tomorrow off because I work for an American company and am lucky enough to enjoy all of their holidays. This makes me very happy, and I'm looking forward to having time to do some housework, then relax and watch a good movie and spend some quality time with Tori. And maybe get in a good telephone/webcam conversation with Charlie.

Speaking of Charlie...this whole separation thing has been really hard. I get so frustrated sometimes and just want him to come home. See, we agreed to stick it out until this training is done in August, seeing one another on holidays and long weekends, until we're finally posted to the military base where he will be working and we can begin living together and getting back to our normal lives. But it gets really difficult sometimes because, and I HATE to say this, sometimes I get a little jealous, or even paranoid. For instance, if he's had long day and doesn't really have a long period of time to talk on the phone, I feel offended that he doesn't want to talk to me. There's also a woman (one of only three) who is on the same course as he is, and I find myself getting extremely jealous whenever he is around her. I'm not sure why and it really caught me off guard when I found that I was feeling this way. I talked to him about it and he assured me that she is just like "one of the guys" and is merely someone who studies with them sometimes or who drives them to the store since she is the only one in their little group of friends who has a car (our car is here with me). I feel guilty because he's really given me no reason to feel jealous or suspicious. He calls and texts every day to say he loves and misses me. He always calls to tell me where his is if he's going out, and what time he'll be back. I don't know...maybe I just watch too many romantic movies, and I expect him to be calling and writing me every spare moment that he has, professing his undying devotion. I just know I have to be careful because I've heard too many stories about jealousy breaking up a relationship.

Anyway, now that I've rambled on about my ridiculous issues I'd like to wish everyone a Happy Thanksgiving. I hope everyone has a wonderful and relaxing day tomorrow!
So. I've been trying really hard to eat healthier, and stay on a low carb diet. And, of course, stay away from too much junk food such as chocolate, potato chips, and my greatest addiction...Pepsi. It's been pretty tough for me but I think I'm doing ok so far, eating lots of fruit and vegtables. But there are times, like right now, when I'm just dying to grab some salt and vinegar chips and wash it down with an ice cold glass of Pepsi. I must resist, I MUST!
I finished babysitting early today so I now have 3 extra hours of time to myself. I think I'll bake some cookies with Tori and maybe make a few icons...something I haven't done in so long I think I might have forgotten how...or how to make anything worthwhile anyway.

It snowed here today. Not a lot, just enough to remind me that winter is just around the corner. I'm not looking forward to it. I mean, snow can be quite pretty, especially when you're curled up on the couch watching a movie and drinking hot cocoa, or when you're decorating the Christmas tree...but not when you have to shovel it, walk in it, or fall down in it because it's hiding ice underneath (happens to me every year).

We just booked flights to travel to Ontario over the Christmas holiday. I will be meeting Charlie's family for the first time. The ENTIRE family. I'm terrified. I'm positive it's going to turn out like some really bad holiday movie where I make a complete fool of myself in front of them all, knocking over the tree or dropping the turkey.

I'm off to enjoy my free time before I head to work.
I am so tired. I have to leave for work in an hour and it's going to take every bit of energy I can muster just to get myself there. I only work for 5 hours, but right now it feels like the longest shift in the world. My couch and The Tudors are looking very tempting right now. I may have the option to leave early when I get there if we're not busy, but financially I can't really do that, not with Christmas right around the corner and a ton of presents yet to be purchased.

Both Robin Hood and Moonlight were great last week. I am becoming increasingly obsessed with both shows. I'm glad I have something good to watch every week, because while Charlie is away the bordeom tends to drive me more than a little nuts. I'm thinking about catching up on Gossip Girl before it gets any further into the season. Can anyone tell me anything about it, and if it's something I might enjoy?

Tori was chosen skater of the month for October in her figure skating club...I'm so proud! She was also featured on our local news broadcast last night on a feature they are running on the new smaller classroom sizes they are trying out at her school: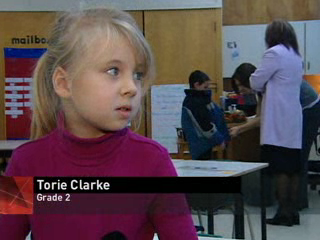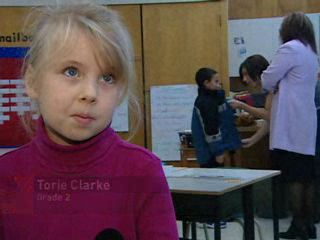 real lives together.

We've set the wedding date for August 23rd. 10 months from now. I already have my dress, have booked the hall, and ordered my cake so I feel like I'm pretty on top of things considering the amount of time I have left. I'm a little lost when it comes to planning a wedding but I have some good friends who are married and my mother just bought me a bunch of books, including Wedding Planning For Dummies. Thanks Mom.

Am obsessed with Moonlight. Looove Mick/Beth. So much. But then, you can always find me wherever there's a wonderfully angsty couple. Especially if one of them is a vampire.
I've been gone for a long time. Too much has happened for me to even attempt to explain where I've been or what's been going on with my life. I was going through a great deal of stress/depression and I needed time alone to heal emotionally and spiritually. I'm feeling much better now, and life is going pretty well. Aside from the fact that Charlie is still away. He was home for Thanksgiving weekend though, and now we won't see him again until the middle of December. I just can't wait until all of this training is over with and we're posted somewhere as a family so that we can start our
Uglies
,
Pretties
, and
Specials
by Scott Westerfield
His Dark Materials
(trilogy) by Philip Pullman
The Time Traveler's Wife
by Audrey Niffenegger
The Dark Mirror
,
Blade of Fortriu
, and
The Well of Shades
(Bridei Chronicles) by Juliet Marillier
Wildwood Dancing
by Juliet Marillier
A Northern Light
by Jennifer Donnelly
I have a feeling I'm going expanding my library very very soon. I'm in need of some fun new reads, and that's what most of these books are. Nothing too dark and depressing, at least I don't think so. Several of them are classified as teen reads, but so is 'Twilight' and that ended up being wonderful. I've been wanting to read something else by Juliet Marillier ever since I first read her
Sevenwaters
trilogy, which I absolutely adored. Seriously one of my favorite books/series ever.
I miss Charlie. So much that sometimes it physically hurts. I keep thinking about how great it was while he was home. One night while he was fiddling around with his guitar and I was reading, our song (The Scientist by Coldplay) came on a mixed cd we were listening to. He put the guitar down, came over to me, took me in his arms and started to dance. He kept kissing the top of my head and telling me how much he loved me and how glad he was to have met me, because it brought not only me, but Tori into his life. The next night, he proposed. Words can't even describe how I feel about this man, and how proud I am of everything that he does. He works so hard for his family, takes care of his grandmother, is a loving and attentive father, he's romantic, and is just such a
good
all around person. For most of my life I never believed I'd find that person I would want to spend the rest of my life with. I don't know how I ever got so lucky.
I'm at work right now and things are pretty slow, so I've been searching Amazon.com for some new items to pick up. So far I've added the following to my wish list:
I''m at work right now, and I don't remember the last time I longed for my bed as much as I do right now. I feel awful. I have a stomach ache, a headache, chills, and feel incredibly tired. It's taking everything in me not to fall asleep at my desk.

I'm dying to discuss 'Eclipse' with someone. I feel heartbroken and emotionally exhausted after reading it, but after 'Twillight' and 'New Moon' I expected nothing less. It was everything I hoped it would be, and I'm already eager for the next installment. Too bad I'll have to wait another year to find out what happens next.
Who on my flist is planning on seeing Becoming Jane?


I think I may watch The Last of the Mohicans later. And eat something, anything, made of chocolate.
Charlie is gone. I'm doing better than I thought I would be. Yesterday Tori and I spent the day at the lake with my family, and last night I watched 'Big Brother' with a couple of friends. Tori is at the lake again today with everyone, but I woke up with a headache so I'm just spending the day alone, enjoying the quiet and losing myself in 'Eclipse'. Again. An easy thing to do, becoming lost in the wonderful world Stephenie Meyer has created. I'm becoming more and more attached to every one of these characters. It's still so strange to me how emotionally drained I am after reading each of these novels. A sure sign of a good story I guess. I'm glad we have a lot of time to go before the series ends, because it's going to be hard saying goodbye.
Current Music:

Silverchair - Straight Lines
The time has come again. Charlie leaves tomorrow morning, not sure for exactly how long this time. We've spent the last few days cleaning the house and getting him packed up, so tonight we can just cuddle up as a family and watch movies, trying not to think about saying goodbye in the morning. I hate this. Each time we have to do it I think it's going to get easier, but it doesn't. This house is just not the same without him in it, things are off balance somehow when he's not around. I know I'll be ok once I get back into my routine, especially now that I'll have a wedding to plan. However, it's these next few days I'm worried about. Wish me luck in not turning into a pathetic little creature who mopes around the house sniffling in her pajamas...I'm stronger than that, right?